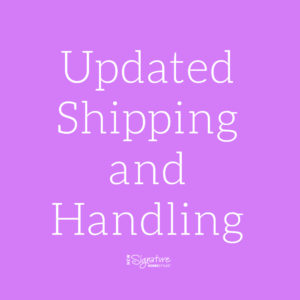 As you may have heard, all major freight carriers (UPS, FedEx, USPS) have all increased their prices and/or surcharges. As a result, we are adjusting our Shipping and Handling Fees to react to these changes.
As you will see, not all order sizes will experience a change.
The new shipping chart is a flat rate up to $49, which will allow more to be added to an order without having an increase on the price of shipping. Customers that meet the Bonus Buy qualification ($50) can add the monthly Customer Special to their order without paying anymore in shipping. Customers will minimize their shipping when they spend more.
The Host shipping and handling fee has also been adjusted to reflect the increase in Host orders that are shipping individually without any customer orders.
The fee schedule changes go into effect at 5 pm CT today, Monday, May 4, 2020.
Let customers know that shipping and handling is an additional fee and that they can minimize their shipping at certain thresholds. Always promote the Customer Special with a $50 order (the average customer order size >$60). Suggest that they add the Customer Special and help them minimize their fee by suggesting additional items that they can add.
We suggest that you purchase samples and supplies together to minimize your shipping cost. If you need only a few supplies, you are able to add Idea Books and Order Forms to a Host order.