WHY CUSTOMERS LOVE SIGNATURE HOMESTYLES!
1. How much can I earn?
The amount of money you earn depends on many factors, including how assertive and hardworking you choose to be. As a Signature HomeStyles Representative, you can earn between 25-30% on all personal retail sales. Whether you're looking for a way to eliminate one bill from your household budget or a reason to leave your full-time job, the amount you earn is completely up to you! There are no hidden charges. In addition, as a Representative, you are eligible to earn supplies and products, beginning with your very first month of business and continuing throughout the year with our New Representative Rewards and Consistency Programs. We are extremely proud of our generous Host Program- completely subsidized by the company! And, don't forget, you are never required to deliver merchandise.
2. How much will it cost to get started?
Three ways to Join ONE Amazing company in November!
Our ShowCase is $99 plus $25 shipping(Over $325 retail value) and $198 plus $38 shipping(Over $700 retail value). The ShowCase includes a variety of Fall product samples and all the supplies you need to get started. Handling charge plus applicable sales tax is charged for the Standard ShowCase.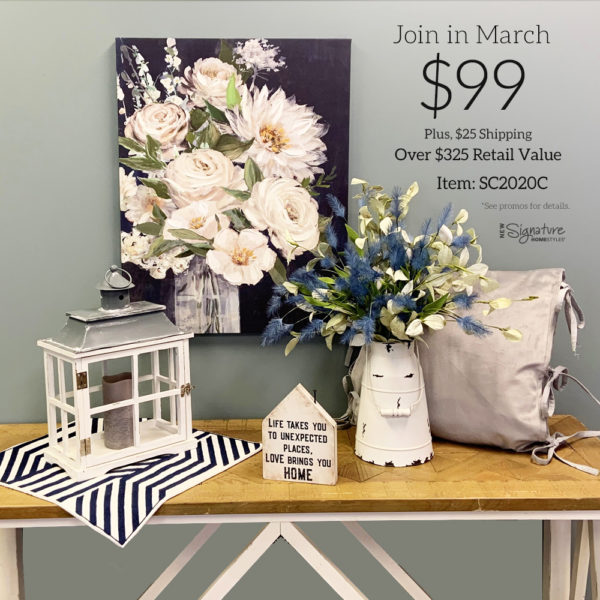 ITEM: SC2020C
Products:
Includes one Milk Pail Bucket, Antiqued White, WR294
one LED Candle with Timer, Gray 6″, NT280GY
one Harper Lantern CH476
one Whisper Leaf Stem Set/2, FM396
one Feather Wheat Pick Set, Blue, FM546
one Navy Floral Print, PC898
one Love Brings you Home Sign, WD677
one Side Ties Pillow Cover, Gray, PW301
one Navy Geometric Pillow Cover, PW206
Supplies: 
Training Materials
Idea Show Planner (10), ZZHOST19
2020 Everyday Invitations (100), ZZINV20
2020 Everyday Idea Book (20), ZZ0120
Guest Order Forms (50), ZZ3012
One Month Free Web Site
$25 Additional Shipping Fee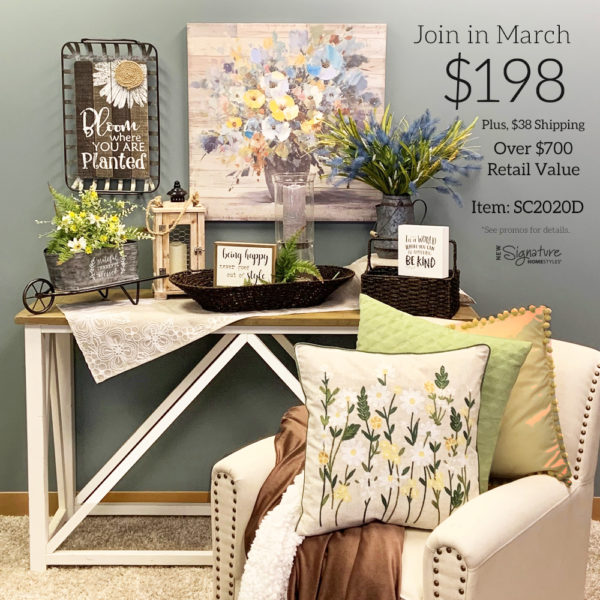 ITEM: SC2020D
Products:
Includes one LED Candle with Timer, Ivory 6″, NT280IV
one Wavy Glass Hurricane, Tallest, CH520
one LED Candle with Timer, Gray 8″, NT309GY
one Fern Pick Set, FM341
one Country Floral Bunch Print, PC902
one HomeStyles, Divided Caddy, HS744
one HomeStyles, Oval Tray Basket, HS194
one Cottage Rose Runner, LN230RN
one Coffee Pot Vase, WR505
one Cottage Lantern, CH512
one Meadow Grass Stem Set, Yellow, FM511
one Velvet Throw, Brown, FB291BR
one Daisy Bunch, FM532
one Be Kind Block, WD724
one Bloom Sign, WD628
one Wheel Barrel Planter, WR408
one Being Happy Sign WD997
one Feather Wheat Pick Set, Blue, FM546
one Metal Tobacco Basket, Rectangle, WR614
one Pom Pom Pillow Cover, Yellow, PW374
one Field Flowers Pillow Cover, PW147
one Quilted Diamond Pillow Cover, PW268
Supplies:
Training Materials
Idea Show Planner (10), ZZHOST19
2020 Everyday Invitations (100), ZZINV20
2020 Everyday Idea Book (20), ZZ0120
Guest Order Forms (50), ZZ3012
One Month Free Web Site
$38 Additional Shipping Fee
Or, start your business for just $59 with our Special Edition Paper ShowCase!
The $59 Paper ShowCase includes supplies that will help you get started introducing Signature HomeStyles to friends and family! Use the Host Benefits from your Grand Opening Show to add the product of your choice! Plus Free Shipping!
Products:
*Free Shipping (Retail value over $59)
*Item: PC2020A
*Substitutions may occur.
Supplies:
IdeaShow Planner (10), ZZHOST19
2020 Everyday Invitations (100), ZZINV20
2020 Everyday Idea Book (20), ZZ0120

Guest Order Forms (50), ZZ3012
One Month Free Web Site
Free Shipping
3. Where do I find business?
It's easy! Write down the names of 15-20 people you know. Now, look at that list and circle the ones you'd ask to host a Show for you. Who do you know who loves to decorate, be organized or entertain? Your Leader also will help you book your first Shows.
4. What experience do I need?
No experience is necessary! We're committed to helping you build your business. In addition, there are ongoing local, regional and corporate meetings you're invited to attend. You'll also receive training and support from your Sponsor or Leader.
5. When should I start?
The time is always right to start your Signature HomeStyles business! When would you like to start earning your first commission check? The sooner you start, the sooner you'll enjoy all the benefits a new career has to offer, including unlimited income!
6. What if I decide this business isn't for me?
If you decide selling Signature HomeStyles products is not for you, you may cancel your Agreement and return all marketable samples (unopened and current) and supplies. Signature HomeStyles will refund the price paid for your case, less a 10% restocking fee. The Representative is responsible for return shipping charges. This offer is valid for one year from the date your Showcase is shipped.
7. How will my Guests receive their orders?
Orders are shipped ground from the Signature HomeStyles office directly to the Host. Guests can choose to have their orders shipped directly to them for an additional fee.
8. Do I get a personal discount on the merchandise?
Yes! As long as you are active, you can place a wholesale order that recieves a 25% discount.
9. When will I be paid?
Commission checks are mailed or can be directly deposited every Tuesday from the Signature HomeStyles Office. Monthly Bonus checks are issued in the middle of the month following the one in which they were earned.
10. How will I receive new information on promotions, stock updates, etc.?
Your online back office is available 24/7 with all the latest updates you'll need.
11. Who do I call with questions?
When you have specific questions about getting started, you can contact our Customer Care Department directly at our toll-free number, 800-800-5452, ext. 9 or contact the Representative you're working with.
13. How do I maintain my "active" status?
To be considered "active," you must ship $200 in customer orders every four months.
14. How do I get going and get people interested in having a Show?
All you need to do to join and get started with Signature HomeStyles is to schedule your Grand Opening. A Grand Opening date is required on the Representative Agreement. Your Grand Opening will help you to get more Shows scheduled. Plus, anyone who wants to be one of your first Hosts can schedule a Show with you right away!
Reward yourself, you're worth it! Get started today!